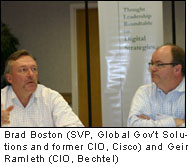 The Roundtable on Digital Strategies is a roundtable for Global 1000 CIOs and their executive colleagues focused on the business issues they jointly face and the enabling role of information technology. The moderated roundtable discussion format engages CIOs and their VP colleagues from other functions in frank dialogue and collaboration.
Executives are drawn from different industries to share their perspectives on a specific business issue and wrestle with concerns common across sectors. The Roundtable also invites 2-3 leading academics who bring examples from industries other than those represented and provide any theory needed. Participants are expected to bring their best practices, share their key issues, and strive to generate new insights to business problems together. Recent topics include enabling innovation, strategic partnering, and working in emerging markets.
The Roundtable meets four times a year to discuss a specific business issue. The U.S. and European chapters meet jointly once a year, alternating between a European and U.S. host. The U.S. group meets separately two additional times per calendar year and the European chapter gathers once a year. Each meeting is one full day with a dinner the evening before. Member companies take turns hosting the meetings. For a copy of our brochure click here.
Each roundtable results in a written summary distributed to participants in a timely manner and, subject to a confidentiality review, made available publicly. For past overviews, click here. The Roundtable is run by the Center for Digital Strategies at Tuck and governed by a Roundtable Executive Committee:
Haider Rashid, Group Senior VP & CIO, ABB Group

T. Geir Ramleth, Senior VP & CIO, Bechtel Group

Karl Probst, Senior VP & CIO, BMW Group

Bill Blausey, VP & CIO, Eaton

Olivier Gouin, Group CIO, Nestlé
Twila Day, SVP & CIO, Sysco Corporation

Hans Brechbühl, Executive Director, Center for Digital Strategies

M. Eric Johnson, Director, Center for Digital Strategies

---
Looking for a specific roundtable? Visit the Corporate Events Table for a complete listing of the center's executive roundtables and workshops.