TECH@TUCK 2010
"Mobile Strategy: Technology, Entertainment and Innovation"
Industry experts, business leaders, academics and vendors gathered to discuss mobile strategy and display mobile technologies on the Tuck campus. The panel was a strategic conversation on this year's theme, "Mobile Strategy: Technology, Entertainment and Innovation" in which the following distinct vantage points were heard:
Terry Kramer, Regional President, Vodafone Americas
Mark VandenBrink, VP of Technology Solutions, Samsung Telecommunications America
Kevin Bradshaw, CEO, Buzzd
Moderator: Emily Green, CEO and President, Yankee Group


View Panel Details




TECH@TUCK is part of the Britt Technology Impact Series (BTIS), which is made possible by a generous donation from Tuck and Dartmouth alum Glenn Britt, President, CEO and Chairman of Time Warner Cable. BTIS is a series of events designed to highlight the impact of an evolving set of technologies on consumers and enterprises and on the value chain of the industry involved. Each year, the series focuses on a particular theme and set of technologies.
---
T

ECH

@T

UCK
Past Events
| | |
| --- | --- |
| | |
| Tony Bates, Senior Vice President / General Manager, Cisco Systems | |
Video: Winning the battle for people, platforms and profits
January 14, 2009
Students, faculty and community members gathered at Tuck to gain insights and information from top industry executives. The panelists discussed how consumers are driving their companies to offer dynamic content on multiple platforms including mobile devices, conventional television and online. [ more ]


Web 2.0: Shifting Business Boundaries
January 16, 2008
This year's Tech@Tuck day looked at the broad impact of Web 2.0 on business and business strategy. Featured companies included: Avenue A | Razorfish, BT, Facebook, Joost, Second Life, and Wachovia. [more]


Managing Consumer Data
TECH@TUCK - January 10, 2007
SUPER VISION EVENT- January 12 & 13, 2007
How do firms make decisions about what types of consumer data they collect and use to enhance their business? How do they keep this data secure? How should they address consumers' expressed concerns about this gathering of personal information? The center hosted a series of programs on the use of consumer data. [ Jan 10 ] [ Consumer Data ]


The Emerging Digital Home
January 11 & 18, 2006
The center hosted two events on "The Emerging Digital Home" in January. First, on January 11, Intel presented its vision of the digital home. On January 18, the center held new product demos and a panel on the future of delivering entertainment to the digital home featuring executives from Microsoft, Time Warner, Samsung, and ESPN. [ more ]


Next Generation Services:
Personalization and Privacy
February 16, 2005
Personalization involves the gathering of personal information to anticipate a consumer's needs and to develop services to fit those needs. How do firms decide about what types of information to use and what kinds of products to offer? How do they gather information without violating consumer trust? [ more ]


Tunes@Tuck:
Fresh Tracks for the Music Industry
February 4, 2004
The music industry has undergone a massive change in recent years, but many chapters of the book are yet to be written. The Internet and supporting digital technologies have driven radical changes in the value chain for music, impacting everything from the production of music to its distribution and how it is enjoyed by the consumer. [ more ]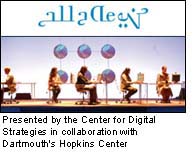 Inside Outsourcing
An Evening on Offshore Outsourcing - April 6, 2004
Offshore outsourcing has become a hot topic among American workers. But what happens at the other end of outsourcing, for call center workers in Asia? The center and the Hopkins Center co-hosted a panel discussion to explore the business, social, and ethical implications of outsourcing to developing nations. The collaboration also presented Alladeen, the internationally acclaimed multimedia play on outsourcing call centers to India. [ more ]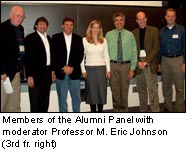 Security and Privacy: Business Dilemma or Opportunity?
Alumni Panel - October 4, 2003
A select group of Tuck alumni got together to examine issues surrounding security and privacy, addressing such questions as: How should firms address consumers' security and privacy concerns? What is the role of government and public advocacy groups? Who should invest in better information security? Can an investment in security simultaneously be an investment in efficiency? [ more ]


Mobile Interactivity: Why Should Business Managers and Consumers Care?
April 24, 2003
A key part of the relentless progress of digital technology has been an ever increasing march towards mobility. Wireless capabilities have freed users from being in a certain spot using a certain piece of equipment, enabling them to accomplish similar tasks on the move. How should businesses and consumers be thinking about the many aspects of mobility and where is the industry headed? [ more ]


Digital Video Media and Entertainment
November 7, 2002
This panel discussed the impact of digital technologies on the media and entertainment industry. "The potential for new technology to seriously disrupt the current distribution configuration of this industry is great," says Hans Brechbühl, executive director of the center. "The industry could conceivably also experience some of the same issues in property rights that the music industry lived through with Napster." [ more ]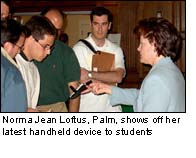 Wireless Handhelds of the Future
May 7, 2002
Technology and business writer Scott Kirsner (Wired Magazine, Fast Company and the Boston Globe) moderated a panel on the likely future development and impact of wireless handhelds and their increasing business use. Companies represented on the panel included Palm, Digitas, Motorola and Lobby7. The event included an afternoon of device demonstrations, followed by the panel discussion and a reception. [ more photos ]

TECH@TUCK and the Britt Technology Impact Series (BTIS) are events highlighting new technologies and their personal or business implications. Each event features presentations by top executives.


Follow on twitter


Mobile App on iTunes
The center sponsors programs for the Tuck and greater Dartmouth community to study the role of digital strategies and technology in business.

Katherine Bryant, Consumer Advocate at ChoicePoint, spoke at one of the center's programs on consumer data.

Michael Powell, former FCC chair, gave a well-received public Q&A at the Tuck School.

John Morgridge, Cisco Systems' Chairman, visited the center and Tuck. He addressed the MBAs as part of Tuck's CEO Speaker Series.