Ajit Appari, Research Fellow. Ajitís research, broadly speaking, focuses on risk measurement and risk management of information technology investments. Currently he is working on the center's research projects entitled "Information Risk in Data-Oriented Enterprises" and "Business Rationale for Cyber Security." He recently graduated from Syracuse University with a PhD in Business Administration (Management Information Systems). He also holds a Master of Technology in Quality, Reliability and Operation Research from Indian Statistical Institute, India. Before pursuing his PhD he worked with Honeywell Technology Solutions Laboratory at Bangalore, a subsidiary of Honeywell Inc. USA, as Principal Software Engineer. His industry expertise includes quality management system deployment and assessment, and application of statistical techniques for process and product quality improvement. More.

Robert Bruce, Senior Research Fellow. Bob has more than 30 years experience in telecommunications law, policy, and regulation. He was a partner of the international law firm Debevoise & Plimpton and head of its international telecommunications practice. In the firm's London office, he was involved as a corporate and securities lawyer in numerous international public offerings by European telecommunications companies. He retired to pursue his interest in the intersection of business, law, and public policy and regulation and consensus building in the telecommunications and information sectors. He is currently Of Counsel to Debevoise & Plimpton and has been a frequent advisor to the World Bank on privatization, sector restructuring, and regulatory reform in the telecom sector.
Bob served as General Counsel to the FCC for three years during the Carter Administration and was appointed as Director of Communications Planning of the Public Broadcasting Service in 1970. He chaired a roundtable of government policy makers and telecom sector executives from around the world organized by the International Institute of Communications. Bob holds degrees from Harvard University (BA and MPA), the John F. Kennedy School of Government, and the Harvard Law School (JD).

Quintus R. Jett, Senior Research Fellow. Quintus studies organization science, management of innovation, and strategy and technology. He is currently researching how digital technologies offer new ways of designing organizations and making decisions. His most recent work appeared in the Academy of Management Review. He was also on faculty at Thayer School of Engineering. Quintus is currently researching how digital technologies offer new ways of designing organizations and making decisions. Using web mapping, he is leading the Gentilly Project, which looks to enhance civic participation in the restoration of flood-damaged New Orleans neighborhoods.
A graduate of the University of Pennsylvania, he received an MS and a PhD from Stanford University. You can listen to a recent interview where Quintus discusses open-source organizing.

Juhee Kwon, Research Fellow. Juhee recently earned a PhD from Krannert School of Management, Purdue University. She received a master's degree in Information Management Systems from Carnegie Mellon University in 2003. Juhee's research interests cover a variety of topics in Management. Foremost among them is her investigation of Information Risk Management. She has a bachelor's degree in Microbiology from Kyungpook National University in Korea. Prior to joining the Purdue PhD program, she worked as a business analyst at Samsung Electronics and as a software engineer at Yahoo and LG.

Charles H. White Jr. (T'68), Senior Research Fellow. Charlie has over 30 years experience in transportation policy at the national level. Early in his career Charlie served as the Chief of Litigation at the former Interstate Commerce Commission where he was responsible for the court defense of the agency's orders deregulating the nation's trucking industry. In the 80s and 90s, Charlie participated in all the major railroad merger proceedings that collectively transformed and revitalized the freight railroad industry. Under the Clinton administration, he served as the senior railroad industry policy advisor and worked with the President's National Economics Council. He also advised many foreign governments on transportation regulatory, safety, and infrastructure issues. Charlie is currently working on transportation security issues as they impact on supply chain efficiencies, including the policy issues facing the rail industry in the wake of 9/11.
In addition to his Tuck degree, Charlie is a graduate of Boston College and Yale Law School. He also attended the National Security program at the US Army War College. He has been a member of the National Academy of Science's Transportation Research Board, is a member of the board of directors of TRANSLOG International, and is an affiliate of LECG (Law and Economics Consulting Group).
Charlie's publications: 2006 South Asia Transport and Trade Facilitation Conference Briefing Book and Transportation Solutions for South Asia Trade.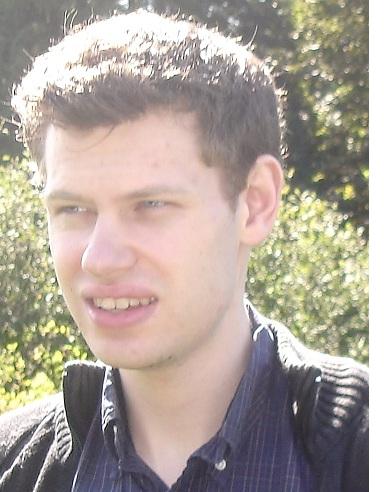 Nicholas Willey, Research Associate. Nicholas's research focuses on inadvertent data disclosures over peer-to-peer networks and web 2.0 sites. He holds 3 degrees from Dartmouth College, a Masters of Engineering Management, a BE in Engineering, and an AB in Engineering Sciences modified with Economics. He has worked with start-ups in the energy, defense, and medical device industries. Read Nicholas's CV here.

Xia Zhao, Research Fellow. Xia's research interests span economic and organizational aspects of information systems and electronic commerce. She specializes in information security and risk management within and/or across organizations. Currently she is working on the center's research project entitled "Information Risk in Data-Oriented Enterprises." She acquired her PhD in information systems from the University of Texas at Austin, and her MS in control theory and control engineering and BS in automation from Tsinghua University. Read more about Xia here.

Zhizhong Zhou, Research Fellow. Zach's research focuses on economics of information systems, open source software, B2B supply chain management, and applied game theory. His work has been presented on leading conferences such as ICIS, WISE and INFORMS. Currently he is working on the center's research projects entitled "Information Risk in Dara-Oriented Enterprises." He got his PhD in information systems from the University of California, Irvine. He also holds a master degree in finance from Tsinghua University and two BS degrees in operations management and computer engineering from University of Science & Technology of China.