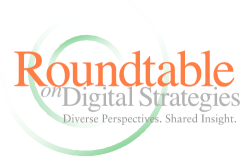 John Garing, CIO/DISA, Ernie Park, CIO/3M

Leading the IT Organization of the Future

Roundtable on Digital Strategies
February 25, 2009
Arlington, VA



CIOs and other senior executives from Bechtel, SYSCO, 3M and other companies listed below participated in this Roundtable.

Agenda
PDF (31K)

List of Participants
PDF (31K)

Overview Article
PDF (31K)


The Center for Digital Strategies' U.S. Chapter Roundtable convened on Feb. 25, 2009 at the Defense Information Systems Agency (DISA) headquarters in Arlington, VA. The day-long discussion focused on leading the IT organization into the future. The following companies and agencies participated: General Dynamics, Eaton, Time Warner Cable, SYSCO, DISA, Cargill, IBM, 3M and Bechtel. Academics from the University of Virginia, Darden School of Business and the Tuck School of Business at Dartmouth also participated in the session.
This timely Roundtable examined the forces of change and their impact on the IT organization of the future (2010-2015). A detailed overview of the Roundtable will be posted on this site in the near future.