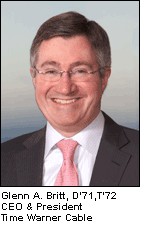 The Britt Technology Impact Series is a three year-long program of MBA-facing initiatives including panels and conferences, industry speakers, and academic seminars. At the end of each year, the Center will produce a multimedia retrospective summarizing learning from the various events, providing students with tangible, forward-looking perspectives on the relevant business and technology issues.
"Scientists and engineers are constantly inventing new technologies," said Britt. "The role of business people is to understand the possibilities created by new technologies, recognize unmet consumer or business needs they could fulfill, and determine if the new technology and the customer needs can be put together in a business model that makes sense."
For more info on the Britt Technology Impact Series, please see the list of speakers and past Tech@Tuck events.
Biography
Glenn A. Britt was named President and CEO of Time Warner Cable in February 2006 and has served as its chief executive since August 2001. He also serves on the Company's Board of Directors. Britt has been the driving force behind the Company's aggressive deployment of advanced video services, such as video-on-demand, high-definition television and digital video recorders. Britt has guided the continued growth and increased penetration of Time Warner Cable's residential high-speed data product and has overseen the efforts of Road Runner Business Class, the Company's commercial broadband service. He has also championed the launch and growth of Time Warner Cable Digital Phone, the Company's VoIP service.

Read the Press Release for the Britt Technology Impact Series.