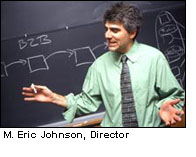 The Center for Digital Strategies at the Tuck School of Business focuses on enabling business strategy. Digital strategies that harness a company's unique competencies can push business strategy to a new level. At the center, we foster intellectual leadership by forging a learning community of scholars, executives, and students focused on the role of digital strategies in creating competitive advantage in corporations and value chains. We accomplish this mission by conducting high-impact research; creating a dialog between CIOs and their functional executive colleagues; and driving an understanding of digital strategies into the MBA curriculum.
Scholarly Research:
Connecting practice with scholarship anchored on IT enabled business strategy and processes.
Executive Dialog:
Convening roundtables focused on the role of the CIO to enable business strategy.
Curriculum Innovation:
Bring digital strategies into the classroom through case development and experiential learning.