History
The Glassmeyer/McNamee Center for Digital Strategies, a part of the Tuck School of Business at Dartmouth, is dedicated to advancing the theory and practice of management in the digital, networked economy.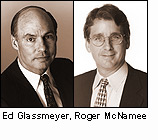 Ed Glassmeyer and Roger McNamee, both Tuck alumni in the technology venture capital arena agreed on the need for increased research and thought leadership on the ongoing impact of information technology, particularly the internet, on how corporations function. Founded in 2001 as the fifth of Tuck's research centers, the Center for Digital Strategies generates insight into the way firms use digital technology to create value both within and for the value chain and fosters thought leadership by forging a learning community of scholars and executives.

Frequently Asked Questions
Q: Who is the center's chief corporate constituency?
A: Corporate CIOs and their functional VP counterparts. The CIO must increasingly become the enabler of corporate flexibility and real-time visibility and response. He/she must be in tune with changing business processes, sculpting networks and linked applications that enable process changes, and giving CxOs and functional VPs visibility into all aspects of the enterprise. The CIO must simultaneously be visionary enough to give fellow CxOs the possibilities technology offers in the future, and both practical and assertive enough to deliver what functional VPs need to competitively improve inter- and intra-firm processes today.
Q: Is the work of the center focused on startup technology ventures?
A: No. While it is useful to understand the upcoming technologies, our focus is on the strategic and organizational challenges facing larger established corporations as they implement collaborative digital technologies both within their enterprises and as part of a value chain.
Q: Does the center focus exclusively on digital technology or also on biotechnology, etc.?
A: Our focus is exclusively on digital information technologies and their strategic impact on business processes and networks.
Q: Why is the center called the Glassmeyer/McNamee Center for Digital Strategies?
A: Ed Glassmeyer (Tuck '68) and Roger McNamee (Tuck '82) generously provided initial funding for the center.
Q: "Glassmeyer/McNamee Center for Digital Strategies at the Tuck School of Business at Dartmouth" is a long name. What's the short name I should use?
A: "Center for Digital Strategies" or "Center for Digital Strategies at Tuck." or "Tuck's Center for Digital Strategies"
Q: Does the center and/or the Tuck School of Business offer any MBA courses that teach digital strategies?
A: There are a number of center-affiliated MBA electives offered that address various aspects of digital business strategies. Please see the Affiliated MBA Courses under the Programs section of this web site for more information.
Q: When was the center formed?
A: The center began operations in 2001.